I haven't post about movies in awhile, but I watched few on Netflix these past weeks. Yesterday I watched Dear Ex and made me remember what tears are made of.
Below the films I watched:
DEAR EX
Dear Ex is one of Taiwan's best films (comedy-drama) of 2018. 
When Sanlian's (Hsieh Ying-hsuan) ex-husband passes away, she discovers he has altered his insurance policy, cutting out their son (Joseph Huang) in favour of a stranger named Jay (Roy Chiu). Outraged, Sanlian decides that she and her son will confront Jay, but Jay proves equal to her scheme. However, when her son unexpectedly moves in with Jay, she is forced to reassess her relationship with them both
This is as real as life can get. It will scratch the surface of your emotions till your heart comes out busting and you won't be able to control.
Superb acting, especially by Roy Chiu and Hsieh Ying-hsuan (the female lead). Her portrayal of emotions and tone are done impeccably. In fact she won The Golden Horse Award (One of the most respected film awards in the Chinese-speaking film industry) for Best Leading Actress.
And he deserved an award as well:
I didn't know what I was about to watch when I clicked play, but it touched me deeply because I know what it feels to lose, and to love someone so much.
Bless the directors and actors for such a gem.
==========================================
MORIR PARA CONTAR (DYING TO TELL)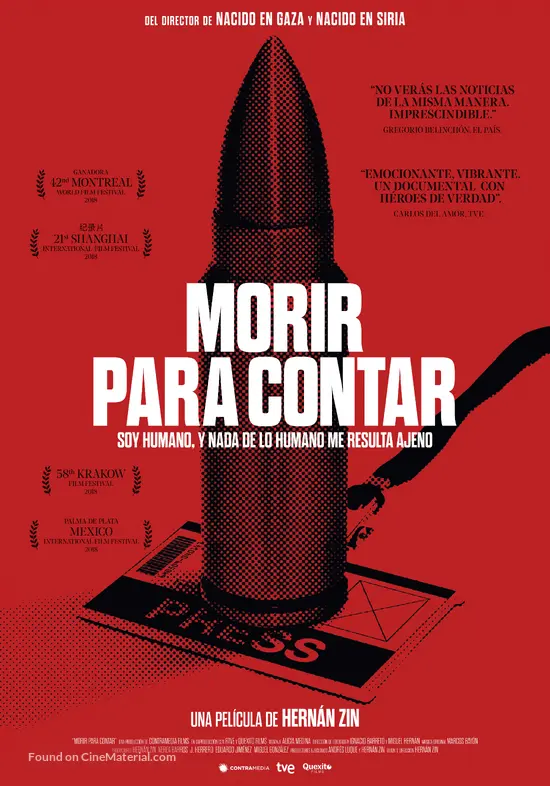 This film approaches a topic that has not been shown in a documentary before: the psychological consequences suffered by reporters working in war zones.
From Spain and the rest of the world, master reporters tell their worst memories and explain how they deal with them. Moreover, we will get to know more deeply the role of those who help journalists with PTSD (Post-Traumatic Stress Disorder).
Each main character in Dying to Tell will talk about a specific conflict, so we will also take a journey through wartime, from Vietnam to the present day. The film also serves as a memorial to fallen colleagues.
I couldn't find a trailer with English subtitles but you don't need subtitles for the horrors of humanity:
A short but essential course in authentic journalism.
==========================================
EARTHQUAKE BIRD
Again, another movie I didn't know anything about other than it was setting in the 80's Japan, and a very magnetic Alicia Vikander.
This is neo-noir film, a psychologically atmospheric thriller… That although it was very predictable and slow, I actually enjoyed. Mostly because Vikander is truly hypnotic.
Not memorable, but okay before bedtime.